Student Leadership Conference 2022
Conference Information and Resources
Registration includes these food functions:
Friday evening: Dinner
Saturday morning: Breakfast
Saturday afternoon: Lunch
Sunday morning: Breakfast
Friday, October 21, 2022
12:00 - 6:00 pm   Registration
4:00 - 5:30 pm     Ice Breakers
6:30 - 8:00 pm     Dinner & Speaker
8:30 - 10:30 pm   Special Interest Meetings
Saturday, October 22, 2022
7:15 - 8:45 am      Registration
7:45 - 8:45 am      Breakfast - Speaker
9:00 - 10:15 am    Workshop Session 1
10:30 - 11:45 am  Workshop Session 2
12:15 - 1:15 pm    Lunch - Speaker
1:30 - 4:15 pm      All Advisors' Meeting
1:30 - 2:45 pm      Workshop Session 3
3:00 - 4:15 pm      Workshop Session 4
4:30 pm                 Dinner On Your Own
9:30 pm                 Evening Entertainment
Sunday, October 23, 2022:
8:00 - 10:00 am Breakfast
◦ Final Activity
◦ Conference Prize Giveaways
Click the buttons below to register for the conference, sign up as a presenter, or access helpful instructional videos.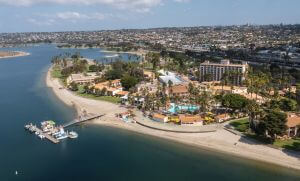 San Diego Mission Bay Resort
1775 E Mission Bay Drive
San Diego, CA 92109
Front desk: (619) 276-4010
Things to Do in San Diego
Mission Beach - 8 minutes drive from San Diego Mission Bay Resort
Mission Beach is San Diego's lively take on the classic boardwalk beach town with nearly two miles of oceanfront boardwalk, numerous rental shops, and Belmont Park, a boardwalk amusement park featuring the Giant Dipper Roller Coaster, the Beach House Grill, miniature golf, bumper cars, rock climbing, and an arcade.
Balboa Park - 10 minute drive from San Diego Mission Bay Resort
Balboa Park is listed on the National Register of Historic Places, as well as one of the "Great Places in America". Highlights of the park include the botanical gardens and lily pond, the Comic-Con Museum, the Natural History Museum, Performance Arts, and the famous San Diego Zoo. Even if you don't enter a building, the park is a beautiful place to explore.
Gaslamp Quarter - 15 minute drive from San Diego Mission Bay Resort
Adjacent to Petco Park, the Gaslamp Quarter has a plethora of restaurants to pick from, from quick bites to fine dining, and endless ways to satisfy your taste no matter what you are looking for. This is a one-stop shop where everything is within a five minute walking distance and will surely make your night unforgettable.
Coronado Island - 20 minute drive from San Diego Mission Bay Resort
Repeatedly ranked as one of the nation's best beaches, Coronado Beach offers miles of gold-flecked sand and sparkling waters, boutiques, and fine dining. Enjoy surfing, kayaking, paddle-boarding, swimming, sunbathing, volleyball, beachcombing, or simply relaxing.
For popular San Diego food choices and districts, please visit the links below: