2023 CCCSAA Student Leadership Conference
Conference Registration
The CCCSAA Student Leadership Conference 2023 is currently at-capacity as of this past weekend. Thank you to everyone who has registered!
*Full payment must be received on or before Friday, October 20, 2023, to be eligible for the membership discount price. 
CCCSAA will accept a purchase order (PO).
Conference Details
This is a three-day student leadership conference to be held in-person in Burlingame, CA, at the Hyatt Regency San Francisco Airport Hotel! We will be offering an exciting program, including workshops on leadership, engaging in student advocacy, and professional skills.
Conference Focus Topics
Leadership Styles
Networking
Shared/Participatory Governance
Decision Making
Civic Engagement & Voter Empowerment
Parliamentary Procedures & Brown Act
Dr. G.T. Reyes (Taga-Ilog & Kapampangan) is a community-engaged scholar-artist-organizer. His work is grounded in the empowerment of young folks, teachers, school leaders, and cultural workers to radically imagine and build capacity to transform their own realities. As an Associate Professor in the Educational Leadership for Social Justice Ed.D. program at California State University, East Bay (CSUEB), his approaches to educational leadership development, research, and professional learning are rooted in critical, socio-cultural, & ethnic studies discourses that forefront culturally sustaining and radical healing pedagogies while also decentering whiteness and colonialism. In addition to his work in the Department of Educational Leadership at CSUEB, "Dr. G" is the critical pedagogy coach for the INSPIRE program and a co-facilitator with the Anti-Racist Liberatory Pedagogy Academy. Outside of CSUEB, he coaches educational leaders and is also a founding school designer and Board member for The FREEdom School of Homies Empowerment. Dr. G completed his Post Doctoral Fellowship from Stanford University and his Ph.D. in Language, Literacy, Society, and Culture in Education at the University of California at Berkeley. Prior to entering academia, he was a teacher, school/instructional leader, and organizational leader of a community-based organization in Oakland and Hayward.
Saturday, October 28, 2023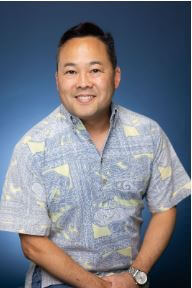 In March 2023, Charles Sasaki was selected as the eighth President and Superintendent of Ohlone College in Fremont and Newark, CA.
He previously served as a faculty member in Ethnic Studies, and as Chief Academic Officer, Chief Diversity Officer, and Senior Student Affairs administrator. His appointment to this role made history multiple times over as he became the college's first Asian American CEO, the first person from Hawaii to be appointed as president of a California Community College, and one of the only Asian CEOs to also be a proud member of the LGBTQ+ community.
Born in Los Angeles and raised in Orange County to a family with deep roots in the Hawaiian island of Kauai, Charles leads as he was raised – with principle, with fierceness, and with aloha. His lunchtime keynote, "Leading with Aloha: Practical Tips for Student Leaders," offers a reflection on his unlikely journey – the grandson of plantation farmworkers and now the chief executive of one of the top ranked community colleges in the state.